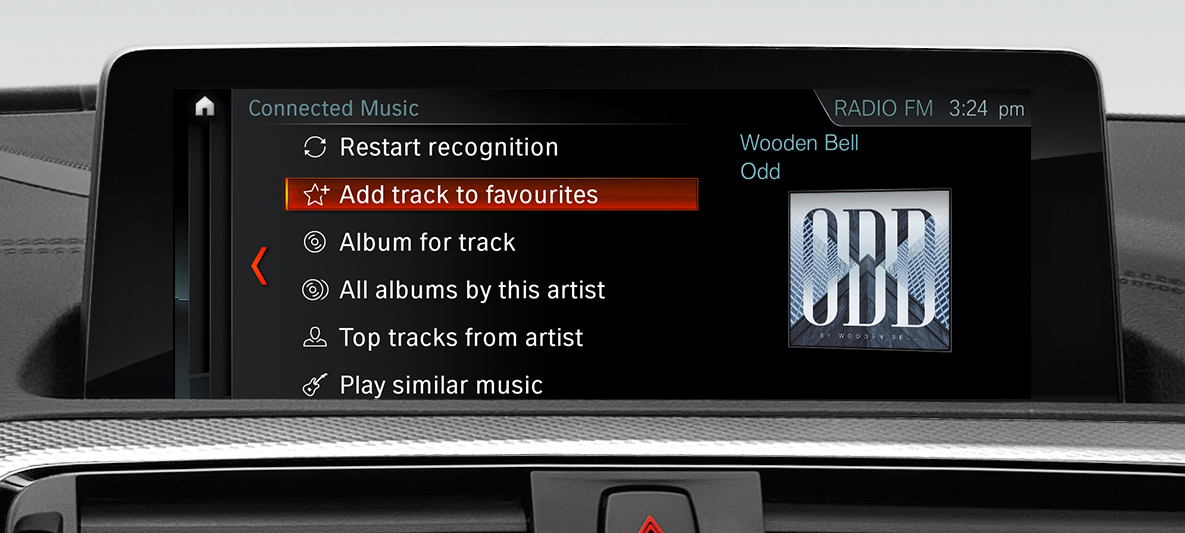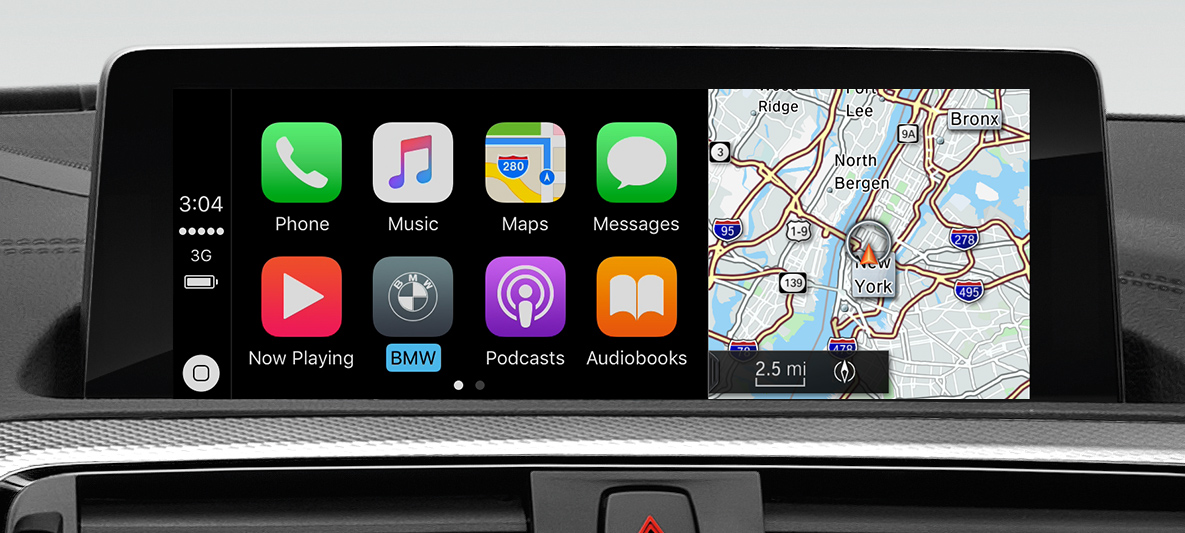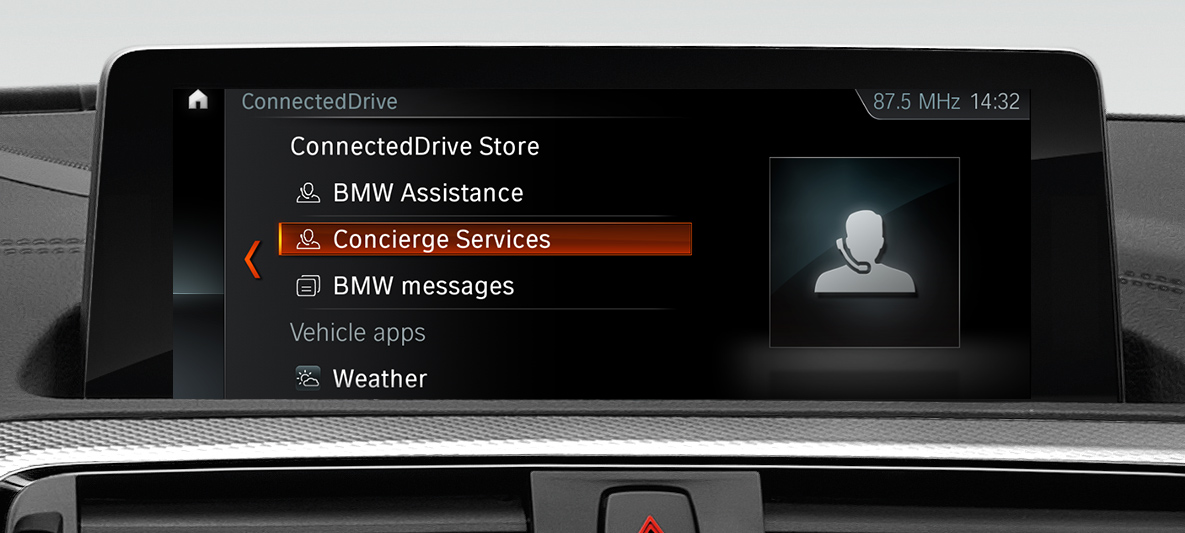 CONNECTED ALLROUNDER.
Connected at a high level: with the optional ConnectedDrive Digital Services, you enjoy numerous features, smart apps and first-class entertainment. Using the online entertainment offer, for example, you can open an account with Deezer or Napster for unlimited music access. This allows you unlimited access to millions of titles free of charge. And the integrated music recognition identifies every song in the radio and saves it in your personal library if required. That really rocks, regardless of which music style you prefer.

Online Entertainment

Online Entertainment in your BMW gives you access at all times via the integrated infotainment system to more than 30 million music titles from our partners such as Napster or Deezer. You can additionally listen to the music wherever you want because you also have access to the music tracks outside of the vehicle with every other device supported by the provider. Simple and convenient.


Apple CarPlay®

Apple CarPlay® preparation enables you to use selected functions of your iPhone wirelessly and conveniently. Smartphone contents and functions such as music, iMessages/SMS, telephony, Siri , navigation and selected third-party apps can thus be displayed and operated in the customary manner via the user interface in the vehicle and via voice control.


Concierge Service

The Concierge Service establishes a connection to a BMW Call Centre at the press of a button. For instance, it searches for the restaurant you want, the nearest cash dispenser or an on-duty pharmacist and sends you the relevant address data, directly to your BMW navigation system if you so wish.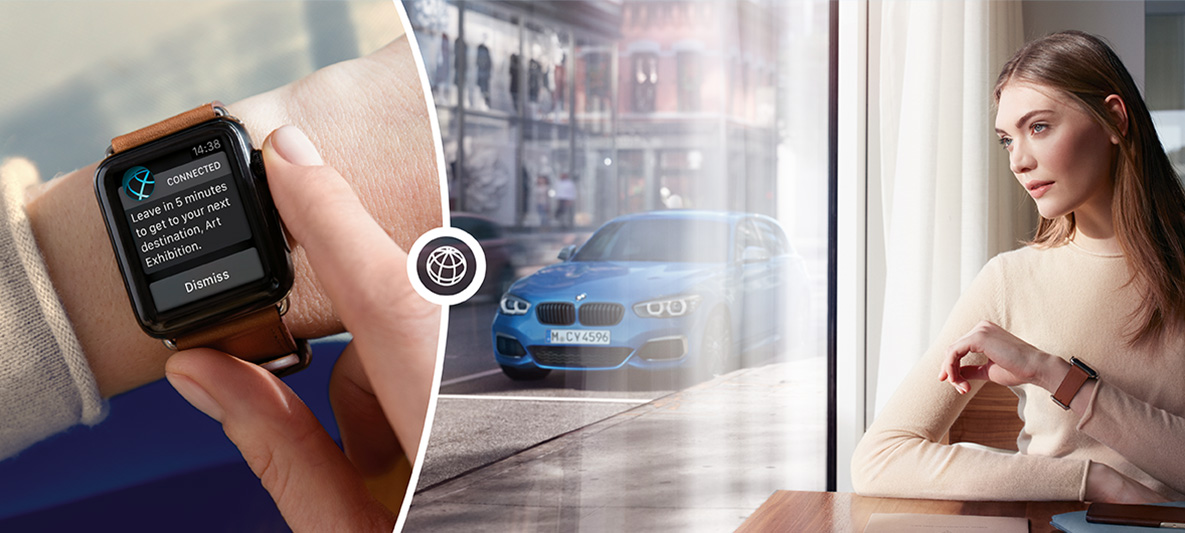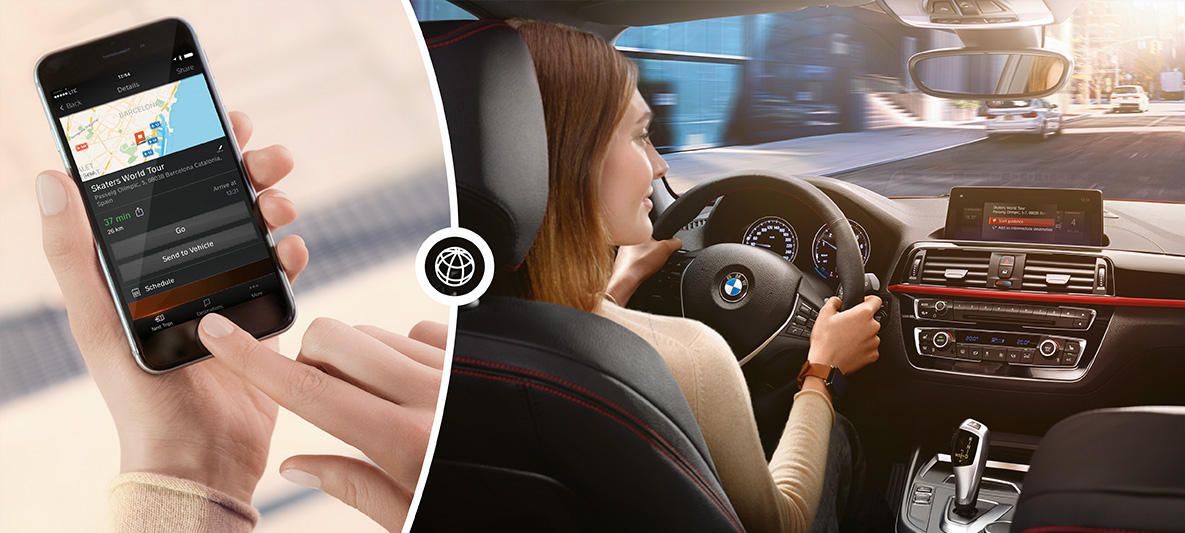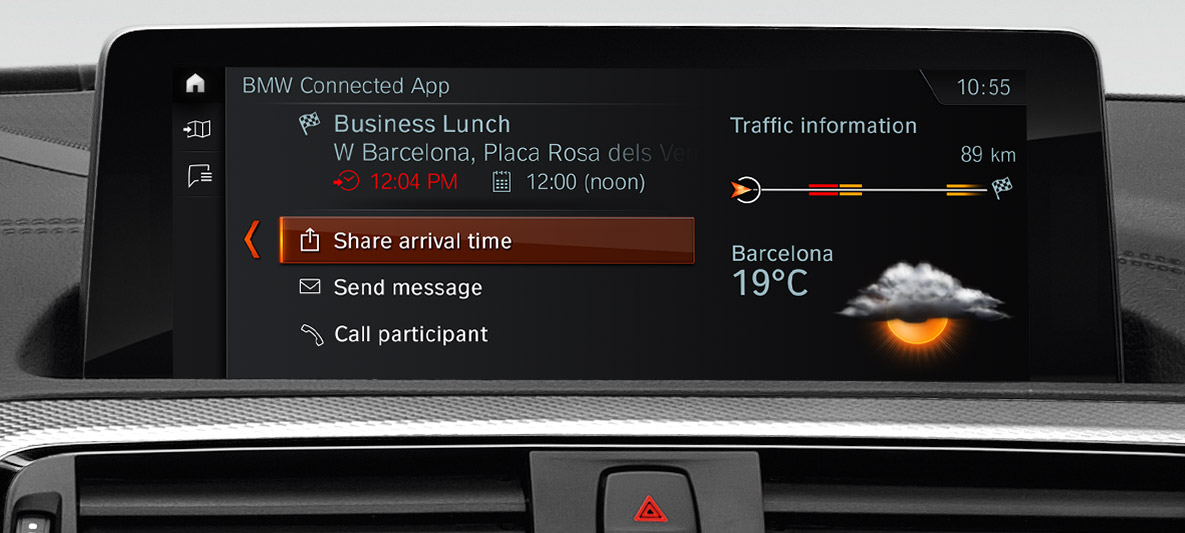 TOUR MANAGER.
BMW Connected is an innovative app that offers intelligent support in reaching your destination on time and in a relaxed manner. It transfers appointments from your smartphone to the navigation system, tells you when you need to set off and informs others if you should be delayed. The app also gives you information on locations, fuel level and whether the vehicle is locked or not. In addition, you can open and close your BMW 1 Series with the app. And if you can't remember where you've parked, the app will guide you safely there on foot.

Share Destination / Send to Car

With BMW Connected you can transfer the destinations you have from smartphone apps or from the web conveniently and wirelessly to your BMW 1 Series. And the same is true for the away from home appointments in your smartphone calendar including the desired arrival times. The system adopts the new destination into the navigation system of your BMW 1 Series with ease.


Time-to-Leave-Notification

Never arrive late again: BMW Connected notifies you of the optimum departure time via smartphone or Apple Watch so that you arrive at your next destination on time. The departure time proposed by the system here is based on real-time traffic data.


Share your estimated time of arrival

Should you nevertheless end up in a traffic jam, you can then, for example, simply send the colleagues or business partners waiting for you a text message to notify them of your delay – and the recalculated estimated time of arrival. And all of this without touching your phone.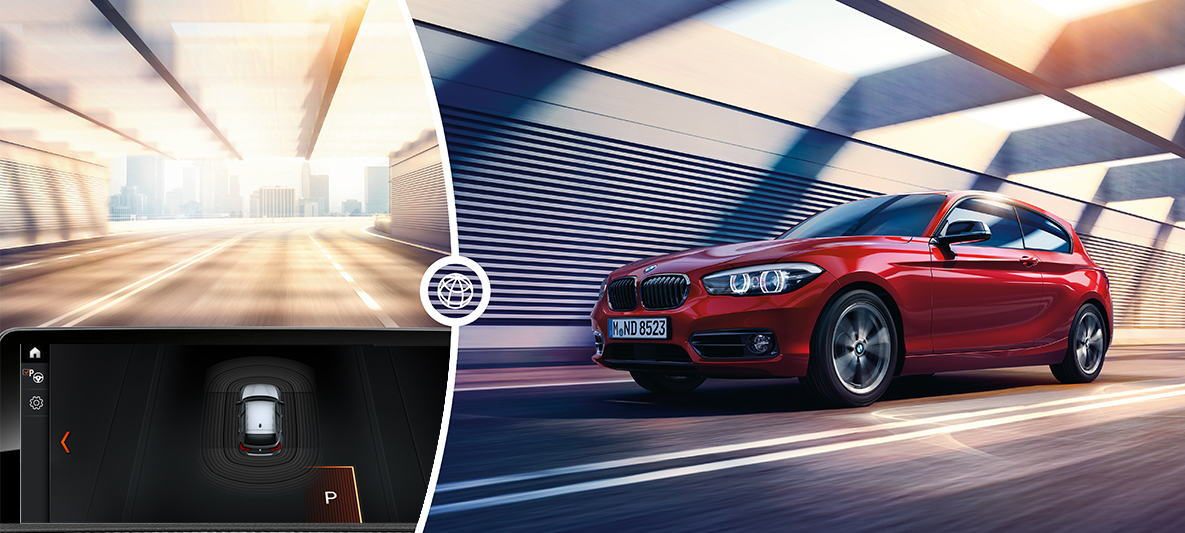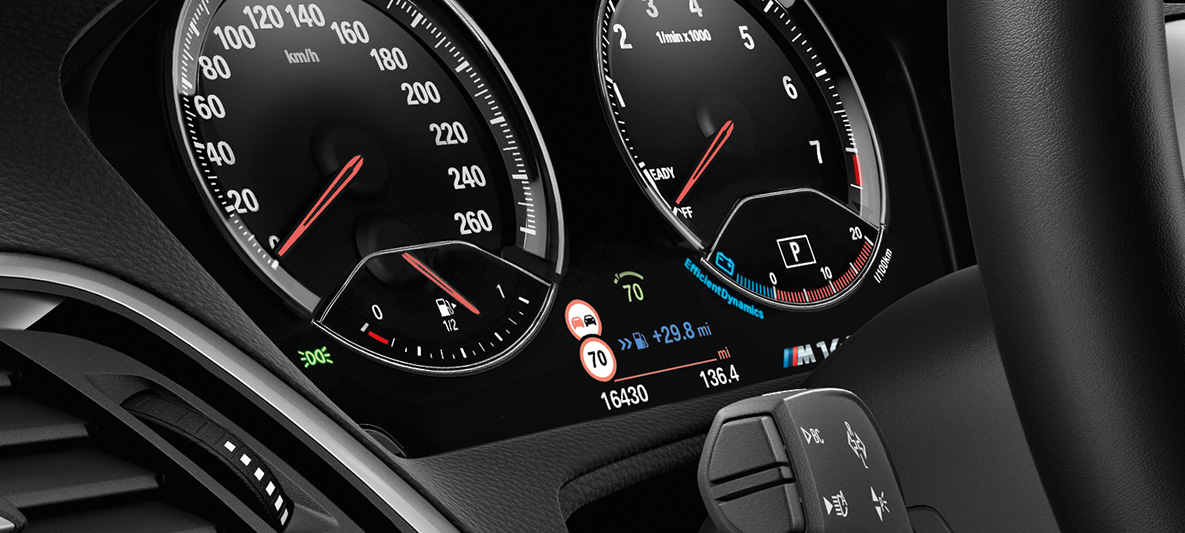 GUARDAESPALDAS.
El BMW Serie 1 ofrece varios sistemas inteligentes de asistencia para el conductor que hacen la vida más fácil. El asistente de conducción con advertencia de acercamiento y personas con función de frenado le advierte de forma oportuna acerca de otros vehículos o peatones. La advertencia de salida de carril reacciona cuando usted cambia de carriles de forma accidental y el asistente de atención le recomienda que tome un descanso si muestra algún signo de fatiga. Una vez que haya llegado a su destino, el asistente de estacionamiento le permite moverse de forma conveniente en su lugar.

Asistente de estacionamiento

El asistente de estacionamiento hace que estacionarse de forma paralela y perpendicular al camino sea más fácil. Para hacer esto, el sistema también mide espacios de estacionamiento estrechos mientras se conduce a una baja velocidad. Cuando se ha encontrado un lugar lo suficientemente grande, el asistente de estacionamiento se hace cargo de la dirección mientras que el conductor continúa operando el acelerador, las velocidades y los frenos.

Conectado, siempre que quieras.
BMW ConnectedDrive representa la interacción inteligente entre el vehículo, el conductor y el mundo exterior. Disfrute de más comodidad, más entretenimiento y la sensación tranquilizadora de seguridad en todos los caminos. O dicho de forma más sencilla: más placer de conducción.

Read more
Consumo de combustible y emisiones de CO2.
BMW 120iA de 3 puertas:
Rendimiento en km/l, combinado 16.9 km/l
Emisiones de CO2 en g/km, combinadas 139 g/km

BMW M140iA de 3 puertas:
Rendimiento en km/l, combinado 14.8 km/l
Emisiones de CO2 en g/km, combinadas 159.0 g/km


Los valores de rendimiento de combustible y emisiones de CO2 se obtuvieron en condiciones controladas de laboratorio de conformidad con los métodos de prueba de la NOM-163-SEMARNAT-ENERSCFI-2013, que bien pueden no ser reproducibles ni obtenerse en condiciones y hábitos de manejo convencionales, debido a condiciones climatológicas, combustible, condiciones topográficas y otros factores.